5 disciplines + 1
The Belgian Tree Climbing Competition for arborists (M/F) is a competition that will be running over two days.
The first day during the preselection's, 64 participants have to take 5 challenges. Those preselection's follow a rotation schedule, giving visitors the opportunity to watch any of these challenges at any given moment. Fans can also follow their favourite climber during a whole day.
The 5 challenges are simulations of the everyday practice of our arborists. Speedclimb, workclimb, rescue, throwline and ascent event, or for those who are not common with the profession these are completely incomprehensible names.
Those who will watch our treeclimbers for the first time, when they rush through the tree tops as full educated spider monkeys, will quickly understand they are built of genuine wood. If you would expect tree climbers are rough guys with barbed wire beards, you will be surprised when the ladies will climb with smooth class and elegance.
We also expect a large delegation of competitors from near and less near foreign countries. The fives bests, that will gain the highest score, will take the ultimate challenge on sunday in the masters challenge. If you think you have seen all on Saturday, you will soon discover on Sunday that Tarzan was in fact a lousy beginner.
DON'T TRY THIS AT HOME
Speedclimb
Running up that tree.
On the stem and the largest branches, blocks of wood are attached, thus forming a route up the tree.
The candidates have to climb up as fast as they can to the tree top. The fastest man/woman to ring the bell wins.
Workclimb
Moving fast and efficiently through the crown.
This exercise is a simulation of work in the tree tops. The candidates start up in the tree top. Here the candidate has to reach as fast and as efficiently as possible several bells at the very edge of the branches! If this would sound too easy, on one of the branches, a buzzer is attached, that will start buzzing when the branch bends too far.
But, branch? Branchlet you mean!
Throwline
Climbing is only part of the job; the rope has to get up before we can start.
In this challenge, the candidates have to throw a throwing bag with a thin line up in a tree, so they can pull their climbing line up.
Therefor a few points they can reach are marked. The higher the rope and the faster all is ready for climbing, the more points.
This is incredible high!
Rescue
In case of emergency.
Arborists must be able bring their mate down fast and very efficiently when something up in the tree goes wrong.
As arborists can only very rarely practice an aerial rescue in reality, only during trainings and in competition they can gather experience.
Time is main issue, because, if help would not be fast enough…
Ascent event
Fast like an arrow into the tree.
Arborists not only have to work up in a tree, they have to get in fast and efficiently.
During previous editions, all climbers had to ring a bell at 15 meter with the same technic. A bit like we all learned at sport classes at school. Because several different technics are being used in daily practice now adays, this exercise got a completely new setup.
Candidates can now choose their own method to ascend. That will make it a little more spectacular as it already was. The Belgian record was set at 15 seconds for 15 meter in 2016.
What do you expect: will the record be broken?
Masters Climb
Just for the very bests
The five men and three woman that gained the highest scores in the preselections, will met each other in the Master's challenge.
In a tree, but a really big enormous gigantic tree, bells are hanging. The candidates will get half an hour to look at the tree, set out their route, install their ropes and ring all the bells. Sounds impossible? Not when you are able to challenge the laws of gravity.
The candidates levitate from one side of the tree to the other, or they run over the branches at high speed. All according to the most stringent safety regulations. Not quite a task for newbies.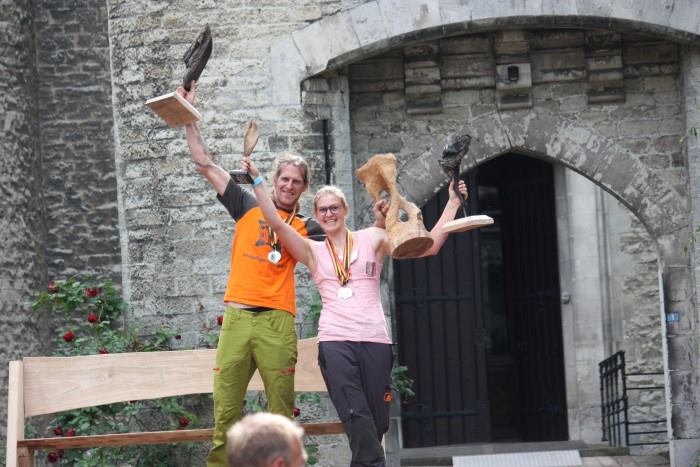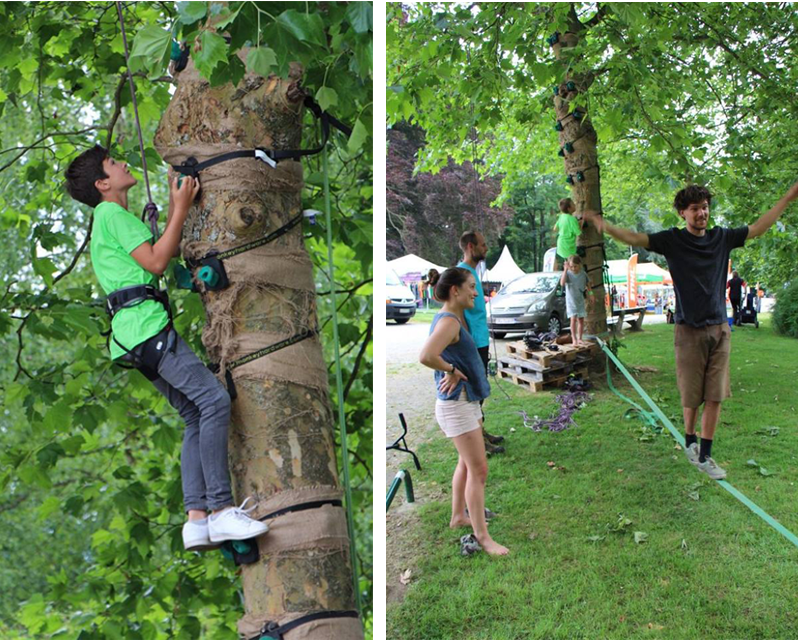 Children
Climbing activities will again be provided for children this year.
The children are given the opportunity to explore on their own and experience what it feels like to climb.
Every year the children's climbing activities are a great succes, un unforgettable experience. 
Program
Friday June 10 th
Saturday June 11 th
 8h – 18h pre selections
Starting at 10, the bar will be open
Sandwiches and snacks available starting at 10h30
19h30 announcement of the Master climbers for the Sunday competition
20h Diner for everybody (volunteers/climbers/visitors).
21h30 party with life music
Sunday June 12 th
9u – 15u30 Master event
Starting at 10, the bar will be open
Sandwiches and snacks available starting at 10h30

16h Ascent head-to-head

17h – 18h Award ceremony and announcement of the winners
Catering
Bar
The bar will be opened starting at 10 o'clock. There will be different soda's and alcoholics available, as well as water, coffee and tea…
Snacks
Starting at 10h30, all different kinds of snacks or sandwiches will be available
Parking
Vélos: Pour les vélos il y a de la place sur le parking des voitures à l'entrée du parc.
Voitures: Ceux qui viennent en voiture peuvent se garer sur le parking ou sur les abords du parc si ce dernier est plein.
Location
Parc communal
Avenue gabrielle petit 6
7940 Brugelette
What 3 words
Coordinates
Plus Code
HVV2+2G Brugelette